I am delighted to announce that my company "Junco Technologies" has been acquired by Quick Heal Technologies Ltd in an all stock deal.. As you may be aware, Quick Heal is one of the leading IT security solutions company listed with the Bombay Stock Exchange and National Stock Exchange.
However, I will continue to be the proud owner for ClubHack, as it will remain as a community driven initiative to bring security awareness in common people who use computers and internet in their daily life, thus serving the society and nation at large.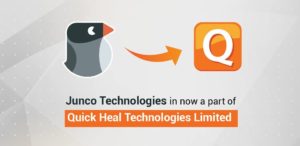 This acquisition deal brings together the world's leading Security Software Products and Solutions along with world class Cyber Security Intelligence and IT Consulting. The big part of the deal resulted in Quick Heal launching 'Seqrite Services' to offer Cyber Security Consulting and 'Quick Heal Academy' to impart Cyber Security Education and Training, globally.
Our mission is to make the businesses and organizations aware of cyber security threats and ways to mitigate risks. Training and Education will work in conjunction with universities, law enforcement agencies and educational institutions. The Seqrite Services division would deal with a wide range of Managed Security Services which, in turn includes a pool of services such as Cyber Forensics, Cyber Audit, Security Consulting and Security Operations Centre (SOC) for various organizations and government bodies.
I believe this combination will make it possible for new experiences to rise and lay a path towards innovation. As these experiences continue to get more intelligent and delightful this engagement will continue to grow which inturn create new opportunities to achieve our vision.
With continual research and development we strive to introduce new security techniques in near future and aim to minimize the security. I am sure the big part of the deal will accelerate the growth of Quick Heal to a larger extent. So far I feel that the acquisition was possible as Junco and Quick Heal have similar culture and share many of the same attributes, resulting in deep individual as well as team growth. I hope we continue doing meaningful work and make a difference to our world.
Thanks everyone for guidance, mentoring, support and love. Hope to be beneficiary of the same in future as well.