I remember in good old days when I was in school & I heard this music band called "Misty Rhythms".
The album was called as "Aye Laila" & had one song with a music video which got somewhat popular due to fresh born MTV in India those days. (Can anyone point me to the actual music video of that song?)
I had the "cassette" of this album but slowly with death of tapes, I lost this album. I searched online many times to buy a CD/DVD version but never got one till date.
Finally today I searched again and found that someone has uploaded the mp3s on rapidshare. I know its a crime to listen to this MP3 version but I'm ready to pay (double or more) if anyone can get me the legitimate CD/DVD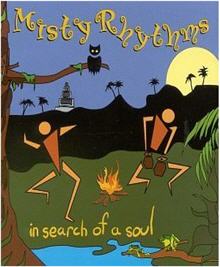 I found the songs & my day is made.
Now you must be thinking what's SO great about this album which has this crazy song & why does it deserves a blog post. So let me tell you this is one of the finest music I have loved. If possible go ahead and listen to other songs of this album. "Aye Laila" is the only one which is funky, rest all are so melodious & wonderfully written that I'm sure many of you would love it.
Its a wonderful fusion of Classical + Reggae + African + God knows what. Its really a hypnotic music album. I'm not a music expert or have sat for any session of music appreciation but still this whole album is very close to my heart.
# Songs like "Big Blue Eyes", "Far far away", "Cuckoo" & "Voice from Stone" has magical lyrics.
# Songs like "Dancing raindrops" & "Dance of Shiva" have the wonderful Indian classical music touch
# Song "Hand in Hand" always reminds me of Bombay theme music
That's not all, there are interesting facts about the band members
Ramana Gogula – Was MD of Sybase India & Co-founder of Liqwid Krystal, an IT startup in bangalore. Then moved to South Indian film industry as music director
Kush Khanna – is a BS graduate and CEO of Bazaar of India Imports, the largest importer of ayurvedic product and musical instruments into the USA.
Ramana Gogula and Kush Khanna, both were based in the US and had formed a musical collaboration and named their band as Misty Rhythms
Sources – http://www.expressindia.com/ie/daily/19980626/17750734.html
Ramana, Kush
Wherever you are, my best wishes to you & would love to get more of such music.