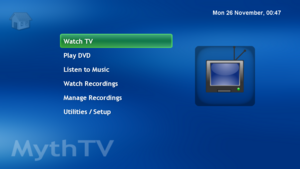 Google
announced
launch of
http://google.com/tv
and everybody including me is very excited about the whole concept as well as the product.
But for a lot of those geeks who don't want to bleed from their pockets for the same
OR
Those geeks who can't wait for GoogleTV to come to their country have 2 nice options
Remember, these are opensource products hence free for personal use but might need some hardware, hence calling them as "cheaper options"
MythTV is a Free Open Source software digital video recorder (DVR) project distributed under the terms of the GNU GPL. It has been under heavy development since 2002, and now contains most features one would expect from a good DVR (and many new ones that you soon won't be able to live without)
Myth Today has gone beyond a simple DVR and has almost all the features of GoogleTV.
Watch and record analog and/or digital TV, including HDTV.
Pause, skip, and rewind live TV shows.
Completely automatic commercial detection/skipping, with manual correction via an intuitive cutlist editor.
Intelligently schedules recordings to avoid conflicts.
Parental controls to keep your kids out of the good shows.
Watch youtube directly
Watch and archive DVDs and other video files.
Listen to your digital music collection.
Schedule and administer many functions remotely via a web browser.
Share your TV/Media library in different rooms over UPnP.
You can add browser to this and do a normal surfing too.
Many more…
Moreover a complete distro called
Mythbuntu
is available today which as the name specifies, is Myth over Ubuntu. No installation hassles, no config worries. As simple as it can be 🙂
Here are some screenshots
Personal Note – I have tried it & found it working very fine on my atom machine with 1G RAM. I was not able to find a correct TV tuner card which supports the cable. Rest everything including a web browser makes it a perfect home entertainment library. You get a lot of themes to change the look and feel too. It can even fetch info on demand from IMDB including details, images, plot etc about movie collection you have.
LinuxMCE is much beyond a entertainment setup. It even includes home automation wherein you can do
Lighting control – Turn on/off lights
Climate control – Manage AC, window blinds
Security – Alarm management, CCTV feature using normal webcam
Telecom – Home EPABX with bundled asterisk
& Media – Play your Media Files, DVDs, CDs, TV whereever you are
As per the website, the media part of LinuxMCE can
Organize media with special metadata tags
View/Listen to media in any room
Media automatically follows you through your home
New media is automatically detected – even if it's on other devices like another computer on your network or Network Attached Storage (NAS)
Control all your A/V gear through LinuxMCE (using IR, USB, Ethernet, or RS-232) including automatically powering everything on and setting the proper inputs on each device
Together with the lighting part of LinuxMCE, lights in the room where video is being watched are dimmed when you start the movie.
Together with the Telecom part of LinuxMCE, the media is paused, when a call comes in, and continued when you hang up.
As you might have guessed by now, to exploit real power of LinuxMCE, you need to be a geekhead. But once you do it, its a great product to live with. Here are some screenshots
Personal Note – Haven't dived deeper into LinuxMCE. Have tried only camera and media setup which works like charm again on an atom machine with 1G RAM
Interested, ping me if you need any help in setting this up. Once you do it I'm sure you'll love it. If you know or have been using some other product for same, do let me know.